Discover more from Checking Out
Run-ons, rants, and ramblings of an elder millennial who recently retired from trying to figure it out.
KIT Chronicles
Influential people, dogs, and an update on the book.
An interesting read about why kids aren't reading anymore.
TIME Magazine just dropped their most influential people of 2023 (which is kinda weird because we're only a quarter of the way through but whatever). My votes go to Daddy (obvs) and Angela Bassett.
Tell me lies, tell me sweet little, viral lies.
Partying with rockstars might not be what it's cracked up to be.
A little something end of life Doula's would like our society to know.
---
ON MY BOOKSHELF
False Witness - Karin Slaughter
Transformed By Birth - Britta Bushnell
---
MOVIES AND SHOWS I RECENTLY WATCHED AND THOROUGHLY ENJOYED
BEEF - If you've driven anywhere in the past 20 years you've probably felt the instinctual need to flip someone off when they don't use their turn signal. BEEF is about this times a bajillion and way more layered, complex, and entertaining. Plus Steven Yuen and Ali Wong are the headliners. I'm not through the whole series yet, so I'm going to give it a 7/10.
Daisy Jones and the Six - I was hesitant to watch this because it's one of my most favorite books I've ever read but I LOVED it with everything inside of me. When I read the book, I remember envisioning Riley Keough as Daisy, so when she was cast it was game over. The music, the outfits, the tension - ugh my heart, 10/10.
---
MEMES AND VIDS THAT ARE KILLING ME RN.
For the next few months, my IG is going to be focused on promoting my book, so here's an inside look at what's been going on the past month (mostly dogs and food - the only things that truly matter).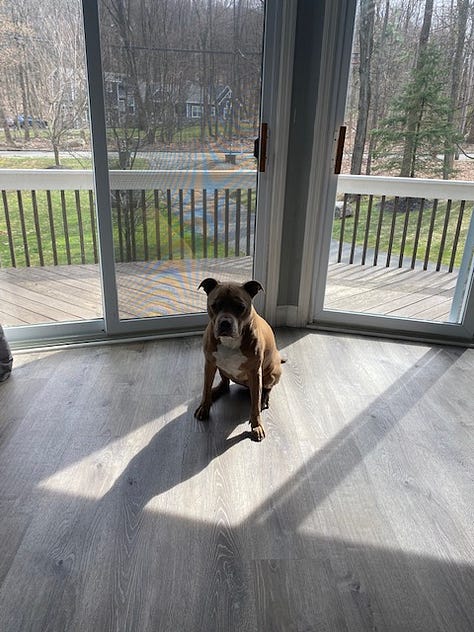 OKAY BUT THE MEMES…
Keanu casually crushing some John Wick 4 Training…
Oh Joe Goldberg, YOU are just too good.
Hits a little too close to home…
---
SOME NEWS ABOUT THE BOOK
My first self-published book, Sympathy for the Strong Ones, is officially going on pre-sale on 4/20. It's a collection of short essays and poems scribbled with Soul and sarcasm.

Sympathy for the Strong Ones is filled with stories of healing, adult neurosis about the future through the eyes of a elder millennial on the brink of motherhood, and stream of consciousness style prose.
You might laugh, you might cry, you might even hate it; any which way you'll feel it.
You'll be able to grab it on my (updated) website, www.vanessaroselima.com.
Checking Out is a reader-supported publication. To receive new posts and support my work, consider becoming a free or paid subscriber.